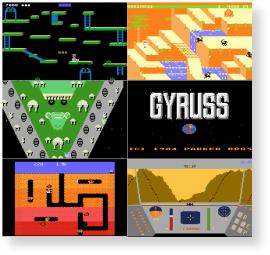 Atari 5200 screenshots were taken with the Virtual Super System (VSS). You can grab a copy of VSS from our 5200 Emulation Page. Taking a screenshot in VSS is a little tricky. First, start VSS as you normally would (for instance, by typing "5200 zaxxon"). First, start up your favorite paint program, as you'll be pasting the images into it. After VSS starts up and goes into full-screen mode, get to the point you want to take the screenshot at and press Alt-Enter. This will cause VSS to go into windowed mode. Then use the mouse to select a region from the upper-left corner of the window to the lower-right. After you've done this, press Enter. This causes the image to get copied into the clipboard. Now switch into your paint program and paste the image.

The native resolution of the screenshots is 320x200, which we then doubled in size to 640x480. This makes it easier to see the details in the shots. You can safely shrink these images by half without losing any detail. The images were then saved in .PNG (Portable Network Graphics) format, which results in a file size of roughly ~3K per image. In general, the first screenshot of a game is taken upon powerup before the game is started. Then we tried to take screenshots of the game in action, showing as many unique screens as possible.

If you'd like to contribute screenshots that we're missing, or you'd like to add to the screenshots for a game we already have shots for, please contact us. We're especially interested in captures of easter eggs, bugs, or unique screens that we're missing.