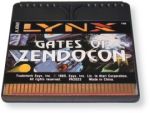 The following are links to the actual Lynx developer documentation that Lynx developers used to write software for Atari's portable console. The files are all multi-page TIF images, so you'll need to use an image viewer/editor that will display images of this type (ACDSee works well). We've also zipped everything together so you can download it all in one shot.
You can download this entire archive here:
We also have additional Lynx schematics online here:
Thanks to Ray Ryland and Carl Forhan for getting this documentation into our hands.