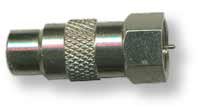 Coaxial (F-type) to Female RCA Adapter
Radio Shack part #278-276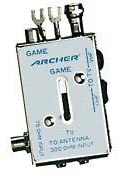 Manual TV/Game Switchbox with Coaxial Output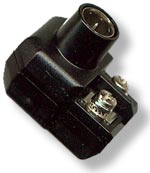 300 to 75 Ohm Matching Transformer
Coaxial is by far the easiest way to connect your old game system, and the method most people will use. This is the 'cable ready' input that is found on every TV made today (and for some time now). If you don't at least have this connection, you have our sympathy. There are several methods you can use for this connection.
The best way is to get a Coaxial to RCA adapter (left). It is cheaper, smaller, and provides a better signal than the traditional TV/Game switchbox. This is a small plug that will cost you about $3 at Radio Shack. It is called a "Gold-Plated Phono-to-F Adapter" and the Radio Shack part number is 278-276. Just connect it to the RCA cable of the game system, then plug the other end into the coaxial ("cable") jack on the TV. Set the TV to the channel that the game system is set to (usually 2-4), and your're ready.
If you still have an old TV/Game switchbox and you don't want to buy something new, you can use that. You can also purchase these at Radio Shack for about $5, but if you're going to go buy something we recommend the adapter described above. Some TV switchboxes have built-in coaxial output, some do not. If yours does not, you will need to buy a 300 to 75 Ohm matching transformer (again, about $2 at Radio Shack). If you you do have coaxial output on your switchbox, just plug the game system's RCA cable into the switchbox, connect the switchbox to your TV's coaxial ("Cable In") jack, and push the switch to "Game" or "Computer". Note - you cannot use the 'automatic switching' boxes that newer game systems like the NES use - the signal in most old systems is not strong enough to trigger the automatic switching, so be sure you buy a manual switchbox.
Most new TV/Game switchboxes will allow you to connect your Cable TV and Videogame system at the same time, but the picture is often less than ideal. We recomend a coaxial selector - this will allow you to choose between inputs (game, cable, whataver) at the touch of a button. We found this one at Parts Express for about $6.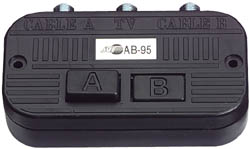 AV Switchbox