Warm up your Atari 2600, as we've just added three new 2600 homebrew games to the AtariAge Store! Omicron, Piñata and Flappy are three games that will keep you coming back for more! Read on for a brief description of each game. For full details, please visit the AtariAge Store.
Omicron - A team of four agents, each a specialist in one of the four elements - water, fire, air and earth - have been miniaturized to microscopic size in order to investigate a mysterious new virus that appears to be of alien origin. The virus mutates rapidly, mimicking each of the four elements. But something went horribly wrong, and contact with the team was lost. Now the virus threatens to grow out-of-control.

You are the last hope to stop it. Having been miniaturized yourself, you now board the Omicron - a microscopic vessel designed specifically to counter the alien virus and stop it from spreading. Can you battle your way through each iteration of the virus and destroy the threat?


Piñata - What's your kind of game? Do you prefer action or arcade? One player or two player? Challenging or extra hard? With Piñata, you have it all!

Piñata is a collection of five challenging games packed into a 32K cartridge. Each game in this collection is unique and will have you coming back for more! Select which game you want to play from the colorful main menu, where you can view your high scores for each game. The five games include in Piñata are Heartbreak, Ping, Joyride, Fixer Fenix, Sr., and Flipside. Heartbreak, Joyride, and Flipside include a two player competitive mode.


Flappy - If you thought flying to nowhere was hard...now they've placed perilous pipes in your path! In Flappy, your challenge is to attend to your avian ally at an altitude avoiding alloy aerial aqueducts. How far will you fare?

Flappy is an Atari 2600 take on the popular (and somewhat infamous at this point) Flappy Bird game that first appeared on the iPhone. Like its iOS brethren, Flappy is a fairly simple game. Pressing the joystick button causes your avian friend to flap, and the more you flap, the higher you climb. Your primary goal (and, really, your only goal) is to line up your bird so it passes through the oncoming pipes. If you run into a pipe, it's game over!
You can find all three of these new games in the AtariAge Store, along with a wide collection of other homebrew games for the Atari 2600, 5200, 7800 and ColecoVision. We've also added "loose" (manual and cartridge) versions of several boxed games we released last year, for those who aren't interested in owning the box and want a less expensive version of the game. And stay tuned for more new releases in the upcoming months!

Discuss online: 22 comments in Atari 2600 Forum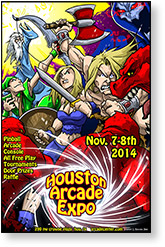 The 2014 Houston Area Arcade Expo is taking place November 7th and 8th at the Houston Northwest Crowne Plaza. Hosted by the Houston Area Arcade Group, this is an annual event celebrating the electronic games people love to play. Gamers buy, sell, and trade pinball, video game and game console items, and, best of all, pinballs, arcade cabinets and consoles are set up on free play for the duration of the show. The organizers put together a promo video that does a great job of capturing the spirit of the event!

Highlights for this year's show include:
200+ Pinball, Arcade & Console games on free play
Special guests Billy Mitchell and Walter Day
Atari 2600 Homebrew Programming talk by Darrell Spice, Jr.
Session with former Williams Programmer Ken Graham
Pinball shop and repair clinic with John Costa
Game swap meet Saturday morning at 8am
The History of Pinball with Dan Ferguson
See Dutch Pinball's new The Big Lebowski pinball machine
Tournaments with prizes throughout the weekend
Cosplay arcade costume contest Saturday
There aren't many opportunities to enjoy large collections of classic arcade games and pinball machines, so if you are in the Houston area (or can get there!), you should be at this expo! Admission is $30 for a weekend pass or $20 for a single day (you save $5 by purchasing your tickets in advance). For more information, please visit ArcadeCenter.com.

Discuss online: 54 comments in Events Forum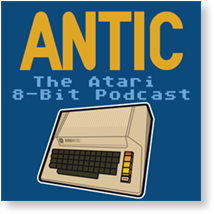 Episode 15 of ANTIC: The Atari 8-bit Podcast is now available. This latest episode features:
Interview with Gray Chang (Claim Jumper, Dog Daze)
Interview with Jonathan Halliday (Atari 8-bit GUI)
Software of the Month: Aspeqt
Hardware of the Month: SIDE2
The podcast is going to move interviews into their own mini-episodes - one interview per episode, at a rate of one or two a week. These will be in addition to the regular monthly shows, which won't have any interviews. The first interview-only episode will be with Paul Laughton, who wrote Atari BASIC, the Atari filesystem software, and Apple DOS 3.1.

ANTIC, The Atari 8-bit Podcast focuses on Atari 8-bit computers (800, XL, XE), and is hosted by Randy Kindig, Kevin Savetz, and Brad Arnold. You can find the current and past episodes of ANTIC on iTunes, the Apple Podcast App, and at www.AtariPodcast.com. You can discuss the podcast in our Atari 8-bit Computers Forum.

Discuss online: 154 comments in Atari 8-Bit Computers Forum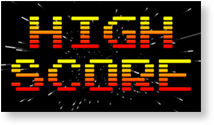 HighScore.com is holding a new high score contest for several classic gaming systems, with great prizes for the winners! Categories include Atari 2600, Atari 400/800/XL/XE, Atari 5200, Atari 7800, Jaguar, Lynx, and TurboGrafx-16/PC Engine. The following prizes are up for grabs:
Harmony SD card cartridge for Atari 2600 (valued at $60 USD)
AtariMax 5200 Ultimate SD Multi-Cart (valued at $129 USD)
Lothratek SIDE2 Compact Flash cartridge for Atari 8-bit computers and XEGS (valued at $62 USD)
Turbo Everdrive microSD card adapter for PC Engine and TurboGrafx-16 consoles (valued at $79 USD)
Multiple $50 gift certificates for the AtariAge Store are also up for grabs
HighScore.com is a high score registry based on peer review, enabling average players to see how they rank relative to their peers. The site can show users how they rank in their city, state, country, and the world, and awards trophy icons (a.k.a. badges) to users who hold the highest score in their region. Users can submit scores along with photos or videos to document their accomplishment, then other site users can vote on whether or not they believe the score is legitimate. After the voting is finished, the user will receive any trophies they qualify for, and they will then also receive a ranking.

The contest runs through December 20th, 2014. You can learn full details about the contest here, and discuss the contest with other AtariAge visitors in our Contests Forum. Good luck!

Discuss online: 6 comments in Contests Forum


Our friend Matt Reichert has posted reviews AtariProtos.com of several recently discovered Atari 2600 titles. The first title is Elf Adventure, revealed about a year ago, appears appears to be a possible sequel to the classic game Adventure. This version of Elf Adventure looks to be fairly early in development, but it uses a similar graphics style to Adventure. One title amongst a batch of newly discovered prototypes is Morse Code Tutor, which seems to be just that: a program to help hone your Morse code skills. It's not known if this was being developed officially at Atari or by the programmer in his spare time, but it's a surprising find after all these years. Also discovered was an updated and nearly complete version of Xevious for the 2600. Prototypes of Xevious had been discovered in the past, but this new version appears to be just about finished. One additional new prototype, an FM Synth cart, was also found in this batch of prototypes (from a box owned by a former Atari employee), but Matt has yet to review this prototype due to its technical nature and lack of visuals.





You can learn about these discoveries and more over at AtariProtos.com. To discuss these titles with Matt and AtariAge users, please join the discussion in our Prototypes Forum.

Discuss online: 61 comments in Prototypes Forum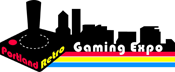 This year's Portland Retro Gaming Expo (PRGE) takes place on October 18th and 19th (Saturday and Sunday) at the Oregon Convention Center. If you're a classic gaming fan and can get to Portland for this event, we wholeheartedly recommend it! The Portland Retro Gaming Expo is one of the largest such events in the country. Here are some of the show's attractions:
Vendors selling classic gaming consoles and games
Various panels in two separate auditoriums throughout the weekend
Special guests and speakers including Garry Kitchen, David Crane, Howard Scott Warshaw, Bob Smith, Keith Robinson, and more!
Huge 20,000 square foot arcade
New homebrew games from several vendors
PRGE live auction held on Saturday evening
Tournaments throughout the show
Live concert on Saturday night
2014 Tetris World Championships
Cosplay contest
To learn more about the show, please visit the official Portland Retro Gaming Expo website.

Discuss online: 57 comments in Events Forum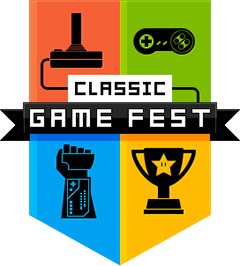 The 7th annual Classic Gaming Fest is taking place in Austin, Texas on August 16th and 17th. This year's show has been greatly expanded in size and will occupy 25,000 square feet in the Palmer Event Center. The Classic Gaming Fest caters to fans of classic gaming systems, featuring retro game tournaments, costume contests, live video game music, and a huge vendor area where you can buy and play classic video games, consoles, merchandise, and more! Admission is only $10 for the entire weekend.

At Classic Game Fest 2014, over 20 local Texas-based artists will be on hand to create and sell unique gamer-inspired arts and crafts. Retro game tournaments will be going on all weekend long at massive tournament/demo areas and projected onto the walls for the entire crowd to enjoy! Live video game music performances including VGM rock bands, chiptunes artists, hip-hop performers, and comedy acts that gamers of any age will absolutely love will rotate on stage. Costume contests for amateur, professional, and best group/mash-up will be held and led by international cosplay star MarieDoll. Also featured at CGF will be a free play arcade featuring over 20+ classic stand up arcades from the 80s and 90s along with an amazing video game museum.

AtariAge will be present at the Classic Game Fest with a large number of Atari 2600, 5200 and 7800 systems setup for play all weekend. You'll be able to try out some of the latest homebrew games, upcoming games to be released later this year, and other games currently in development. Darrell Spice, Jr., author of Medieval Mayhem and Space Rocks for the 2600, will be on hand to present a talk about creating new games for classic Atari consoles.

Please visit the Classic Gaming Fest website to learn more about the event!

Discuss online: 84 comments in Events Forum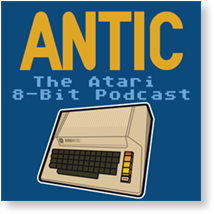 Episode 13 of ANTIC: The Atari 8-bit Podcast is now available. This latest episode features:
Interview with Fernando Herrera (First Star Software, Astro Chase, My First Alphabet)
Software of the Month: LeBreak
Hardware of the Month: MPP 1000C and 1000E modem
Website of the month: AtariLeaks
Feature Topic: Atari 8-bit file extensions
ANTIC, The Atari 8-bit Podcast focuses on Atari 8-bit computers (800, XL, XE), and is hosted by Randy Kindig, Kevin Savetz, and Brad Arnold. You can find the current and past episodes of ANTIC on iTunes, the Apple Podcast App, and at www.AtariPodcast.com. You can discuss the podcast in our Atari 8-bit Computers Forum.

Discuss online: 154 comments in Atari 8-Bit Computers Forum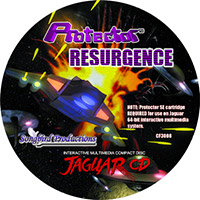 Invaders have jammed our newly deployed missile silos, meteor storms strike at will, and scouting reports indicate the deadly Vorton obliterates everything in its path. Will you be the next PROTECTOR?

Songbird Productions has announced that Protector: RESURGENCE is coming to the Atari Jaguar CD in September 2014! RESURGENCE is an expansion CD for your Protector SE cartridge, and features 24 new waves, new galaxy and ground graphics, new ship graphic, new enemies, and more. A limited 50-disc run will be made available at the Classic Gaming Expo in Las Vegas, including some graphics and audio unique to that disc, followed by the general release of the game.

You can discuss Protector: RESURGENCE with other AtariAge members and Songbird Productions in our Atari Jaguar Forum.

Discuss online: 243 comments in Atari Jaguar Forum


The noted video game historian team of Marty Goldberg and Curt Vendel, co-authors of the popular book Atari Inc. – Business is Fun, will tell the story of Atari Corporation in their upcoming book "Atari Corp. - Business Is War." In honor of the 30th anniversary of Jack Tramiel's founding of Atari Corporation, they have released the book's stunning cover in advance to video game and computer fans alike. Hand painted by artist Lukas Ketner, the cover personifies the company, its products and history.

"Our intent was to really have a cover that embodies the company at a glance," said Goldberg. "The iconic Jack Tramiel and his sons Sam, Leonard and Gary surrounded by the now legendary products they introduced to us. At the same time, the seriousness and competitive business nature Jack and his companies were known for had to be shown. Lukas captured it all perfectly and in a style that anyone who grew up with Atari should recognize!"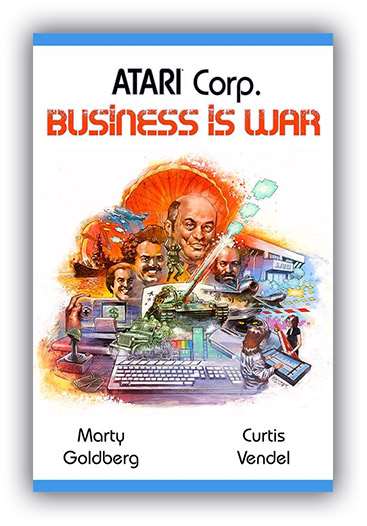 You can read the full press release in our online forum, where you can also view a larger image of the upcoming book's cover.

Discuss online: 91 comments in Gaming Publications and Websites Forum


November 28, 2014
Did you know?
Coleco produced a 2600 clone called the Gemini.
Contests
Mailing List