Backfire
Programmed by Chad Lare
Produced and released through AtariAge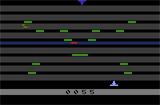 I wish I could give out two Homebrew of the Year Awards, because Backfire certainly deserves one (but doing so would, of course, compromise the whole award concept). Backfire was developed from the ashes of Chad Lare's other work in progress, Cyclostar, which was forced back to the drawing board in need of a complete rewrite. I first played the game on an emulator and realized immediately that it was good. However, I had no idea just how good until I bought the actual cart and played it on a real system. Backfire is fast, fun, and addictive.
The game concept is simple, you have two guns, one at the top of the screen and one at the bottom. Enemy ships are generated from the center of the screen and work their way to you. If they reach you, you are toast. Your only defense is to shoot the oncoming ships before they get to you. Simple, right? It would be except that if you miss, your shot might traverse the screen and hit your other gun, in effect you've killed yourself! Not enough? Well the ships are armed with projection fields which create reflective shields in empty space. If you hit the shield instead of the ship, your shot will ricochet right back at you, and you'll have to move fast to get clear of your own shot! But don't take too long to line up that perfect shot, because if the ships get too close to your guns, you'll be tugged on by their tractor beams and getting an accurate shot will become impossible! Your only chance is to destroy the command ships that control the shields, then blast away!
Backfire is a simple shooting gallery type game, but there is plenty here to keep even the most experienced gamer busy. The best thing about Backfire is how addictive it is. Your first couple of games you may only score a couple hundred points, but soon you get the itch. You know you can last longer, you know why you missed that ship and shot yourself, you know you can hit that blue transport ship, gain the extra life and keep going. Pretty soon you've played hours of Backfire and your score is now in the thousands! The game is fun, plain and simple.
Backfire features some very nice looking graphics. Although the screen is made up primarily of color bars, there is no flicker, and every sprite is clearly rendered and full of vibrant color. The game also features some fun sound. A space shooter of this variety needs blips and beeps and buzzes, and Backfire delivers. Overly complicated sound would clog the game up, luckily there is no clutter in Backfire, just crisp sound effects that go smoothly along with the fast paced gameplay.
Even better still, Backfire comes complete with a very well designed retro-manual done in the style of the classic Atari picture label manuals. The manual was designed by Dale Crum (who also has designed the last two years of Stan Award labels), features art by Earl Green (selected in the Backfire Label Contest) and was produced by AtariAge on high quality glossy paper in full color. This throwback manual is exceptionally well done and looks exactly like the old school manuals I grew up with. Very nice.
Backfire is an amazing game, especially for Chad Lare's first homebrew effort. The quality and care put into the production of this game promises great things from Chad Lare in the future! He is definitely a programmer to keep an eye on!