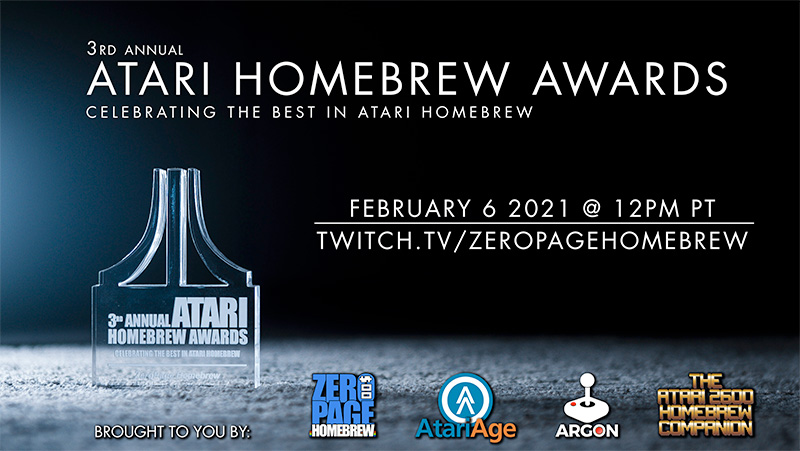 Voting is now OPEN for the 3rd Annual Atari Homebrew Awards, celebrating the best in new Atari 2600, 7800 and 8-Bit/5200 homebrew games released in 2020! VOTE for your favorite homebrew of 2020 right now in fourteen different categories such as Best Graphics, Best Music+Sound, Best Packaging and Best Work-In-Progress!

VOTE HERE: https://atariage.com/forums/forum/203-atari-homebrew-awards/

The results of the 3rd Annual Atari Homebrew Awards will be announced LIVE on the ZeroPage Homebrew's Twitch channel on February 6th, 2021 at 12PM PT | 3PM ET | 8PM GMT during a special broadcast. The winners and runners will be announced on the broadcast in each of the categories along with LIVE acceptance speeches from the winners, plus much more!!

Discuss in our Forum with other visitors...


We are excited to announce the arrival of several new Atari 2600, 5200, 7800, and Atari 8-bit homebrew games in the AtariAge Store for pre-ordering! We were aiming to have these available several months ago, but everything's moving a bit slowly this year. All the boxes, manuals, and labels for these games have been ordered, and we anticipate having everything in January. Once all the printed materials arrive, we will promptly get all pre-orders shipped.

Here's an image of all the new games: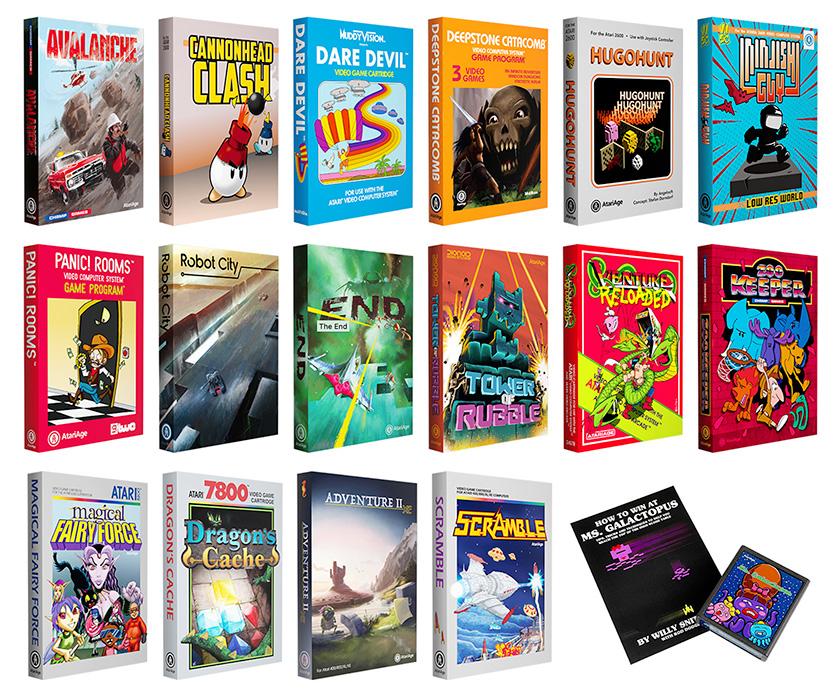 You can click on the following links to go directly to those games in the store: You can also browse our latest releases here. If you have any questions about the games or the pre-order process, please send us a message! You can discuss these releases with other AtariAge Visitors in our Atari 2600 Forum.

Discuss in our Forum with other visitors...






This Holiday Season is about to get a lot more interesting with a new Atari Lynx Game Jam being announced...

Atari Gamer, in conjunction with AtariAge, ejagfest and Sillyventure, are bringing you this festive themed game jam to get some cheer, laughter and fun going into this Holiday Season! Your mission, should you choose to accept it, is to make an Atari Lynx game within the next 15 days, to have fun and put a smile on players' faces. There are no prizes this time around, it is just for fun and enjoyment and to show off your skills.

Full details of the Lynx 2020 Game Jam and how to participate can be found here. You can also discuss the Lynx 2020 Game Jam in our Atari Lynx Programming Forum. Have fun!

Discuss in our Forum with other visitors...


We're proud to announce the addition of three new Atari Jaguar games to the AtariAge Store, Last Strike, reBOOTed, and Brawn and Brains! We've also re-issued an older Jaguar title, Xenon 2, with an updated box and label, as well as a completely new manual! Pre-order these games today, and we'll have them shipped to you in October.




Here's a brief description of each of the new games:

Last Strike: Last Strike is a fun shooter with both horizontal and vertical scrolling levels. You must defeat the enemies you encounter while traversing each level, rescuing any stranded humans you encounter along the way. And you'll want to rescue the humans, as you earn credits that you can later use in the shop to upgrade your ship! Some of the upgrades include the Megabomb, Twin Shot, Rear Shot, Shield, Extra Life, and Speedup. At the end of each level, you'll encounter an enemy boss that you must destroy in order to proceed to the next level!

reBOOTed: From space, to the open highway, to the sea. The worlds of Reboot return in a multi-game cartridge that will make your head spin and TV explode with hours of fun! These landmark, thoroughly updated classics, can now be easily enjoyed in one cartridge! reBOOTed is a collection of seven Jaguar games on a single 6MB cartridge! The games featured in this multipack have all been given an update with new graphics, music and other additions such as Pro Controller support and cartridge saves. Some of these titles have previously never had a physical release, while others were only available on Jaguar CD or in extremely limited runs due to production costs.

Brawn and Brains: Brawn and Brains is a collection of three unique Atari Jaguar games, each from a different Jaguar developer. This collection features Dragonkeep (Lawrence Staveley), Tiles (Rik Day), and Do the Same (Matmook/Jagware). This is the first release of these games in cartridge form, offered in an economical release with cartridge and manual.

Discuss in our Forum with other visitors...


The Lynx Programming Competition 2020 has come to an end now and that means that there are new games for Atari Lynx fans to try out. This year's competition didn't draw in as many entries as the one last year, but we dare say that the quality of this year's entries is well over par!

The competition was hosted over at itch.io this time around, which provided for a much better platform for entry submissions and now opens up all the games for rating by the public. So be sure to try out each game, you can play them all online via Atari Gamer's Atari Lynx Emulator. Direct links to play the games can be found over on this page at Atari Gamer. The competition was sponsored by Atari Gamer, RetroHQ, Mark/Space: Project Argon and AtariAge.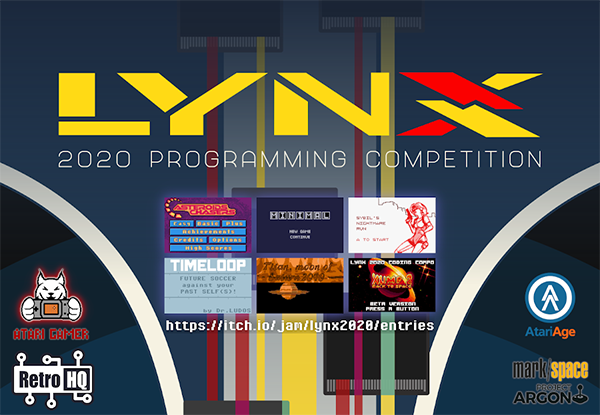 Voting ends September 15, 2020, so be sure to try out these new Lynx games and vote for your favorites today!

Discuss in our Forum with other visitors...


Atari Gamer and RetroHQ have launched a fresh Atari Lynx 2020 Programming Competition this year with the theme of "Future", retro future that is! This is a programming competition for anyone wanting to show off their skills at coding for the Atari Lynx. If you think you have what it takes, join, submit and bask in the retro glory of this amazing console! The contest runs through August 15, 2020, after which voting for the winning entries will commence! Prizes include a Lynx GameDrive cartridge from RetroHQ, cash donated by Mark/Space, and the opportunity to have your new Lynx game professionally published by AtariAge (with five free copies of your game, along with royalties).

For more details about the contest and how you can enter, please visit the Lynx 2020 Programming Competition page at Atari Gamer. This is the second Lynx Programming contest hosted by Atari Gamer, and you can check out the details of last year's competition here - Atari Lynx 30th Birthday Programming Competition. You can discuss the Lynx 2020 Programming Competition with other AtariAge members in our Atari Lynx Programming Forum.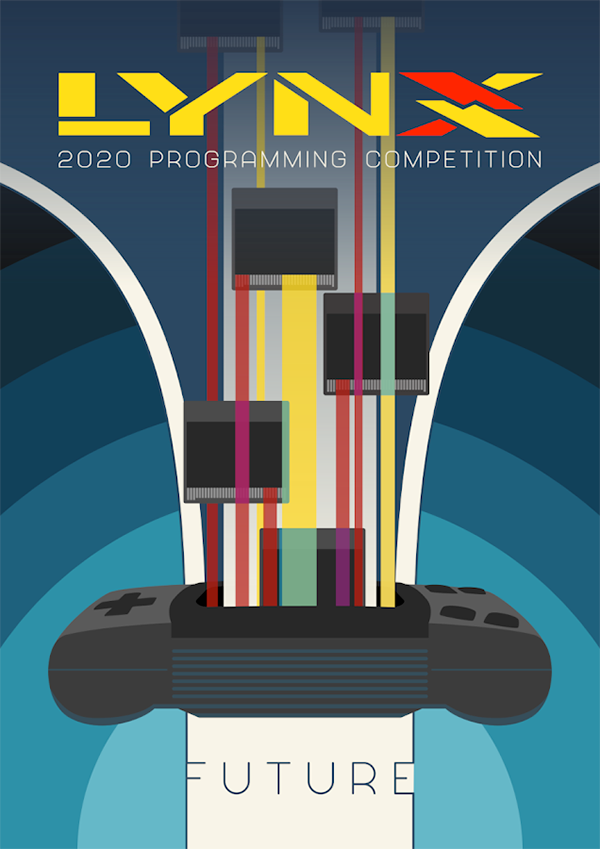 Good luck, we can't wait to see (and play!) all the great entries!

Discuss in our Forum with other visitors...


The new releases from October's Portland Retro Gaming Expo are now available to purchase online! In total we have nine new 2600 games, one new 5200 game, and one new 7800 title! You can click on the images below to jump directly to each game's entry in the store.




Here's a list of the new games: We also have the AtariVox+ back in stock, which is used by four of the above new games for saving high scores, as well as by Wizard of Wor Arcade to replicate speech from the original arcade game! And, finally, we've added boxes as an option for about 50 games, including last year's new 2600, 5200, and 7800 boxed releases (Dungeon II: Solstice, Mappy, Space Game, Froggie, and RealSports Curling).

Discuss in our Forum with other visitors...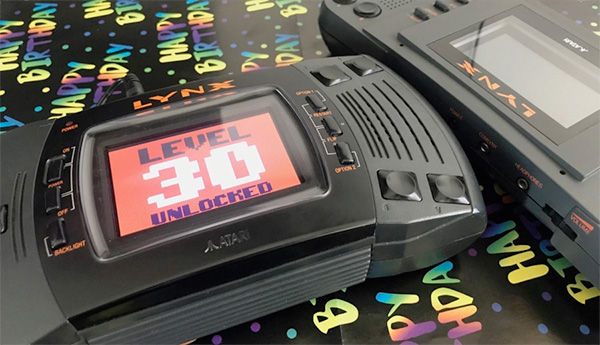 The Atari Lynx turned 30 in 2019 and Atari Gamer decided to turn this event into a momentous birthday party! The Atari Gamer Programming Competition was envisaged so that homebrew developers would bring a handful of new games to the Atari Lynx on its 30th Birthday. Instead, we got eleven new games across all genre styles! This ahead-of-its-time console is getting a whole lot of presents, so join in with us in celebrations, enjoy all the new games and keep on Lynxing!

There are eleven new games for the Atari Lynx to celebrate its 30th Birthday. You can download their ROMs or play them in your web browser by following the links on this page. After you've played the games, please cast votes for your favorites! You can also discuss the games and leave comments in the discussion threads for each of these new titles in our forum. Your voice will help determine the winners!

The complete ROM package is available for download here. Inside you will find all of the original submissions, as well as a directory with converted LYX ROMs for AgaCart and a directory of ROMs and a special launcher to use with the Lynx SD cartridge. Be sure to have a look at the README.txt file for more instructions. And don't forget to vote!

Discuss in our Forum with other visitors...




We've launched a Summer Sale with 10% off all 2600, 5200, 7800 and Jaguar games (minus pre-order games) in the AtariAge Store! Now's a great time to pick up some of those homebrew games you've been eyeing but haven't yet pulled the trigger on! This sale is for two weeks only, and only applies to games, hardware is excluded. As a BONUS, any purchase of $200 or more will receive a free copy of Balloon Trip or Sheep It Up!, a $25 value!

Sale ends on Thursday, September 5th, 2019 at 11:59pm CST! Please visit the AtariAge Store for complete details.

Discuss in our Forum with other visitors...


Our friend Curt Vendel of AtariMuseum.com attended the recent Vintage Computer Festival East, where he assembled an impressive exhibit covering the Atari 400/800 computers to honor the 40th anniversary of the Atari 8-bit computer line. Bill and Anthony of the The Guru Meditation YouTube channel were given a tour of this exhibit by Curt, where he describes some of the hardware and software on display. Besides the hardware that saw retail release that Atari 8-bit computer fans are familiar with, Curt also talks about some unreleased prototypes he had on hand, such an 850 Interface Module in a black, aluminum case, an 800D (Developer) system that had an expansion bus and serial ports on the side, and a cost-reduced Atari 800 "Collette" board where everything was on the main board as opposed to the use of expansion slots. Also on display was an interactive Atari sales kiosk featuring the ERIC Laserdisc demonstrator system.

You can watch the video below:



Discuss in our Forum with other visitors...


January 26, 2021
AtariAge Store
Contests
Mailing List