September 11th Fund Charity Auction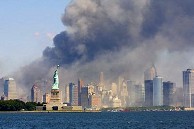 December 3, 2001 Update:
The first three rounds of auctions have raised $4038.32! Many thanks to everyone who contributed items and those who bid on the auctions to make them a success!
We have started our fourth and final round of auctions. You can see a listing on eBay of all the Auction for America items currently running. These auctions are listed under the eBay handle atariage. You can also see the results of our completed auctions.
---
We all know about the tragic and senseless attack that took place on September 11th. To do our small part in helping with the relief effort, AtariAge has organized a September 11th Classic Gaming Relief Auctions with proceeds to benefit the United Way September 11th Fund.
Current Auctions
These auctions will end on December 9, 2001.