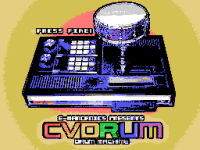 August 22, 2003 - Winner Selected!
Frank Emanuele has selected Manu Parssinen's second entry, pictured to the left, as the winner in the CVDRUM Splash Screen Contest! Manu will receive an autographed copy of CVDRUM for his efforts, and his splash screen will appear in all copies of CVDRUM sold. The other finalists were Chris Johnson (Entry #2), Cristiana Yambo (Entry #1), and Manu Parssinen (Entry #1).
Frank had this to say about the winning entry:
"This design features a great use of color. The idea of the ColecoVision having a large drum coming out of it was what CVDRUM sounds like visually. Great job! It was very hard to choose one out of all of these great entries."
Congratulations to Manu Parssinen and the thanks to everyone who entered!