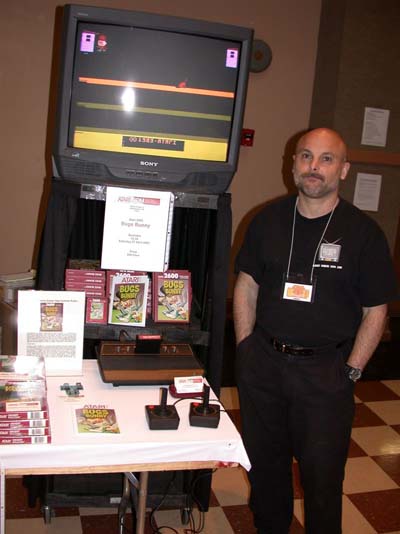 Bob Polaro poses with the Bugs Bunny display. Bob was onhand to sell and autograph boxed copies of Bugs Bunny, a more complete version of which was released at the show.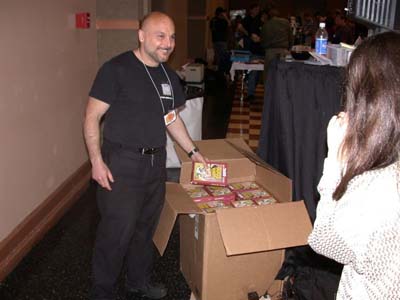 Bob getting ready to start selling copies of Bugs Bunny.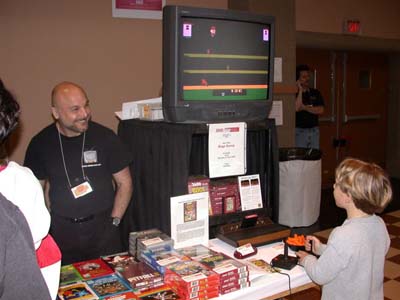 Bob Polaro smiling as he watches a young admirer of his game.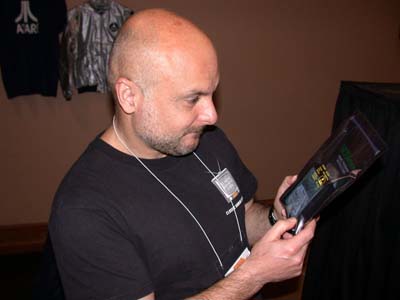 Bob Polaro looks intrigued as he spies a copy of Joe Grand's SCSIcide, which was sold in an anti-static bag in keeping with the hard drive theme.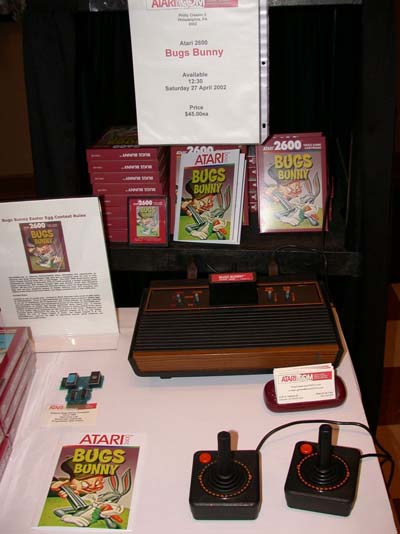 A closer shot of the Bugs Bunny display at Atari2600.com's booth.
A line forms for those wanting to purchase Bugs Bunny.
David Newman calls out a number belonging to a lucky badgeholder who's about to win a free copy of Bugs Bunny.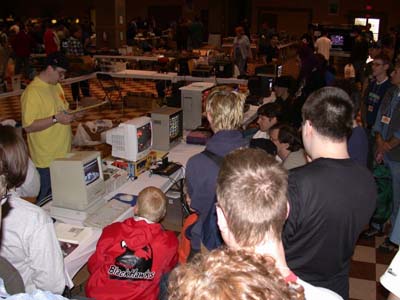 The Warlords tournament being held at the PhillyClassic booth.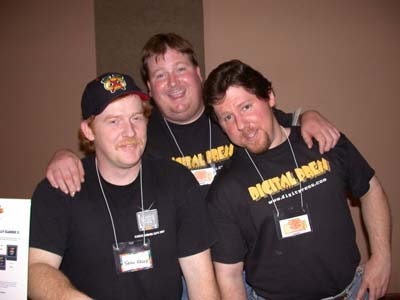 Sean Kelly, John Hardie, and Joe Santulli of Digital Press.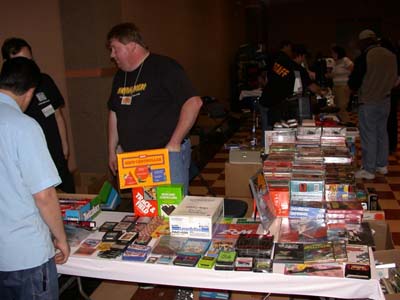 John Hardie brought a large assortment of Atari merchandise to sell at the show, including tons of new, still shrinkwrapped, games.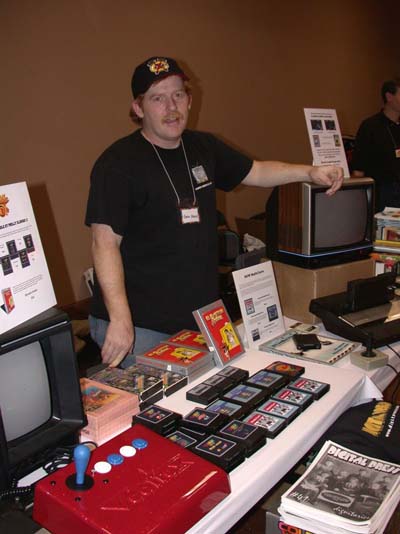 Sean Kelly with all the items he was selling at the show (multi-carts, ColecoVision carts, Elevator Actions, etc.)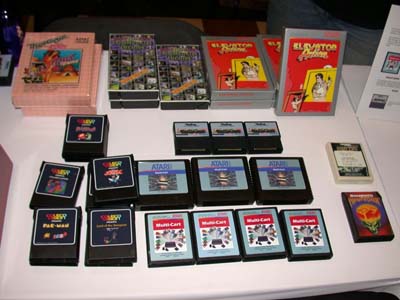 A close-up shot of some of the items Sean brought to the show. These included the new menu-driven 2600 and 5200 multi-carts, which allow you to select the games from a menu instead of having to use dip switches as in the past.
Common carts such as these were in abundance at the show.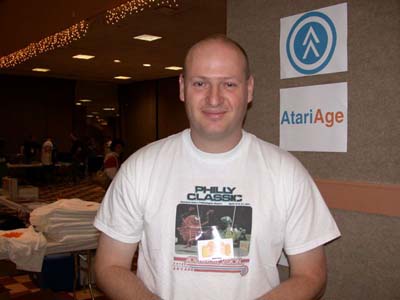 Ronen Habot, author of the upcoming Castle Blast for the Atari 5200.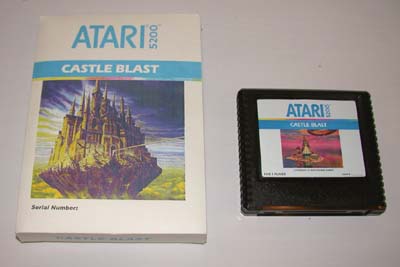 This picture shows a prototype box for Ronen Habot's upcoming Castle Blast for the Atari 5200, along with a cartridge using the winning label from the Castle Blast Label Contest held here on AtariAge. The cartridge actually did contain Castle Blast, which was later plugged into Curt Vendel's Atari 5200 kiosk where people could try it out.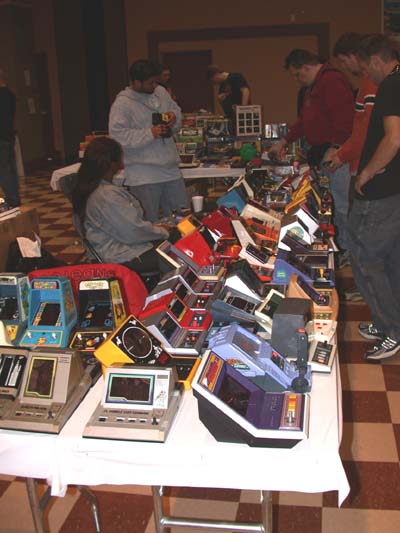 Michael Roberts brought an amazing array of handheld games to the show, which were all placed out on display where people could play them! I can't even imagine how many batteries he had to purchase beforehand.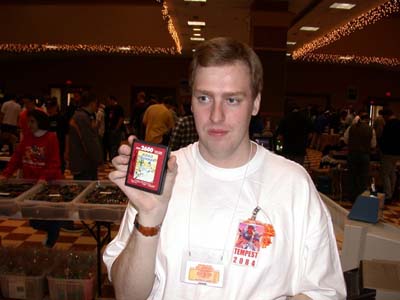 Matt Reichert showing off a copy of Road Runner signed by Bob Polaro.
Brian Prescott (Crazy Valet, Vault Assault) and Joe Grand (SCSIcide).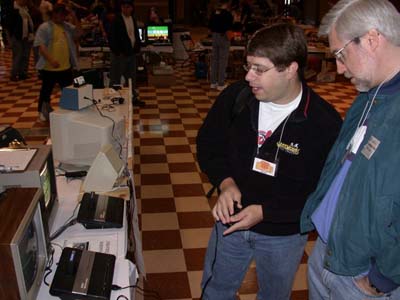 Brian Prescott demonstrates the changes in his Vault Assault Philly Classic Edition to Dan Cage.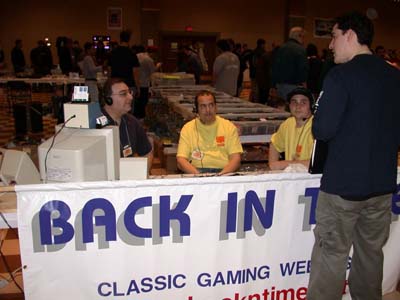 Mike Stulir interviews some PhillyClassic staff members at his Back In Time booth.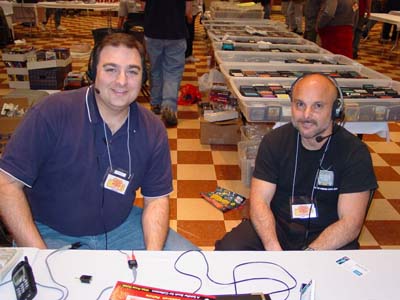 Mike Stulir interviews Bob Polaro.