Star Fire
Created by Manuel Rotschkar (Programmer), Thomas Jentzsch (Programmer), and Paul Slocum (Music)
Produced by XYPE and released through AtariAge

You just can't deny a sure winner. As soon as the polls opened for the Player's Choice Award, the votes for Star Fire just started rolling in. The game took an instant lead and held it for much of the voting period. Gamers know what they like and they turned out in droves to pay tribute to this instant classic! Star Fire won the Homebrew of the Year award, where you can read about this great game in more detail.
But that is not to say Star Fire was without competition. Several other heavy hitters gave the game a run for its money. The following is a brief run down of the other contenders:
Redemption Adapter Hardware
Developed by Pixels Past

And its about time. Sick of unreliable or just plain crappy 5200 controllers? This brilliant hardware adapter allows you to play all of your 5200 favorites with controllers that actually work. Available in three varieties, the Redemption Hardware gives you access to PC controllers, 2600/7800 controllers, and the SEGA Genesis/SMS controller pad all on your 5200. A must have for all 5200 owners.
Interleaved ChronoColour Technology
Developed by Andrew Davie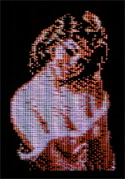 Although not an individual product, this technological miracle had a huge impact on the Atari community this past year. The Interleaved ChronoColour technology truly stretches the bounds of what you thought the Atari could do in terms of visual effects. The technology takes advantage of several 2600 programming "tricks" as well as the limitations of the human eye, to create what appear to be full color detailed images through the VCS. In reality, the image is created by a series of interleaved (hence the name) lines of color, red, green, and blue, that "flicker" just enough to fool your eye into seeing a full color picture. While the produced image isn't exactly DVD quality, it certain is heads above any previous 2600 display capability, and most importantly, opens the door to a whole new way of rendering graphics on the VCS. The homebrewing has a new toy to play with! The Interleaved ChronoColour technology made its debut in 2003 with the release of the AtariAge 2003 Holiday Greeting Cart.
CyberTech S-Video Card
Developed by Chris Wilkson

Now here's a neat boost for your VCS! The CyberTech S-Video Card will give your 2600 a kick in the pants. This little hardware add on gives a much needed improvement to the screen resolution, image shift, color balancing and ghosting that you have been living with for 20 years. Your VCS will look like new, better actually since it increases the capability of your system. The S-Video Card has nothing but upsides. Get a fresh look from your old system.
Atari Max Flash Carts
Developed by Steven J. Tucker

Since I'm no computer whiz by any definition, I'll default to the description on the APE Homepage: "Atarimax Flash Cartridges are professionally produced, in-system reprogrammable flash-memory based cartridge for the Atari 8-bit computers. While the hardware itself can be programmed with anything, it is also supported by an open-source multi-cart/disk-cart/banked-cart development system which is already robust enough to produce large multicarts/disk conversions without any programming by the user. Its the intention of the initial 1Mb and 8Mb cartridge projects to provide a easy to use platform for homebrewing of inexpensive, legal multi-carts and other software, while being small enough to allow it to be completely and quickly re-programmed in the Atari itself, using only a standard floppy disk drive or SIO2PC software."
Painter
Developed by Sinister Developments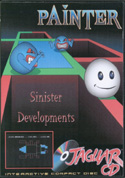 Jaguar homebrews? Sounds crazy, but its true. Not only true, but astoundingly good! Painter is a fast-paced retro style arcade puzzle game featuring 100 addictive levels to enjoy. Each level of Painter is a grid which must be fully traversed within a pre-defined time limit that differs per level while avoiding the grid monsters that patrol the grid looking for intruders. Bonus points are awarded for completing individual boxes and for remaining time left on completion of a level.
An addictive puzzler, Painter has Jag fans in a frenzy with a large number of levels, a rocking soundtrack, and a great throwback feel. If you love puzzles, Painter is a must buy!
A big thanks to all who voted and made this award possible! I look forward to doing this award again next year and long into the future. And finally congratulations to Star Fire on an award well earned!