Adventure II, Square Trio's Atari 5200 homebrew sequel to Warren Robinett's Atari 2600 game, Adventure, is nearing completion! We'd like the classic gaming community to have a share in adding something to the game! Winners will get their idea used in the game with proper recognition of their unique contribution, and be entered into a pool to win one of the following prizes:
2 Runners-Up -- a free AtariAge homebrew of your choice
1 Grand Prize -- a free AtariAge homebrew of your choice AND a free copy of Adventure II for the Atari 5200, including box and manual.
There are two parts to the contest, one where you can design alternate player icons for the game and a second that allows you to submit text rankings that appear after the player wins the game. Please continue reading for detailed information on each part of the contest as well as how to enter. You only need to enter one part of the contest--you do not need to submit entries for both parts. The contest ends at 11:59pm (CST), Wednesday, August 31st, 2005 and all submissions must be received by then to be considered!
Part One of Ye Olde Adventure II Contest: "Alternate Icon"
In the original Atari 2600 Adventure game, Warren Robinett chose to use a simple square to represent the player, freeing up the hardware's two sprites for the more detailed items and dragons. Adventure II for the Atari 5200 keeps "Square" as the main protagonist, but there are also a few alternative icons that can be found! Can you dream up a clever design using only one color and a maximum width of 8 pixels?
Here are the technical limitations:
Use only one color. "Off" pixels that allow the background to show through can be used for detail.
Width = maximum of 8 pixels, the standard Atari "Player Sprite". Remember, each pixel looks like a rectangle, being twice as wide as it is high.
Height = your choice! However, keep it reasonable given the game context and memory limitations.
To help you along, use the two bitmap images on this page and a paint program such as Microsoft Paint to compare existing icons and to build your own! The Square is one frame, unanimated. The Hand, however, opens and closes depending on whether or not you are carrying anything. Likewise, your design can have more than one state, or some minor animation if you desire.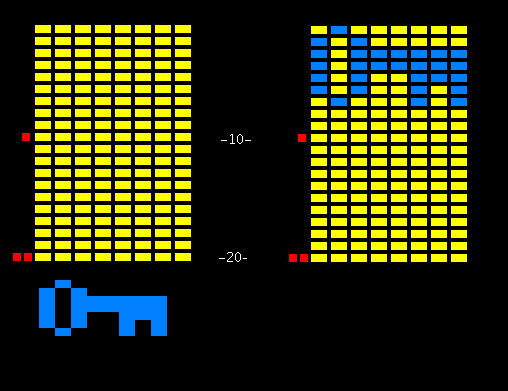 The grid on the left is a blank slate -- 8 pixels wide, with 20 rows.
You can use the Fill feature in MS Paint to fill in the "on" pixels.
The grid on the right side shows the Key which is already in the game,
for comparison with your image.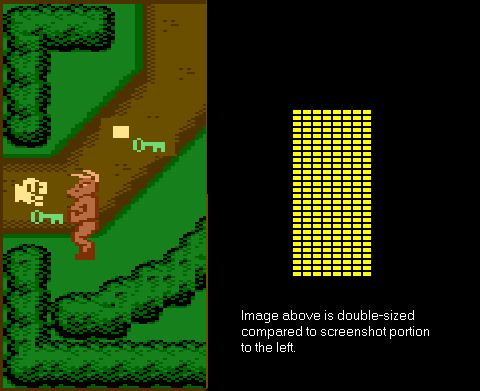 A picture illustrating the size of the square, hand, key, and Minotaur
sprites in the game. Your icon should be roughly similar in vertical height
as the square/hand/key, so that you can fit within the hedge mazes!
The winning entry will be chosen based on the overall image and how well it works within the context of the game.
Rules:
Cartridge Memory is precious! If an icon idea takes up too much memory due to huge vertical height, or too many frames of animation, it won't be accepted.
Collision with the background: the larger an image you make, the more the player will collide with logs, plants, hedges, and castle walls. Now, this might just make the game a bit more challenging, and that's okay, if it works.
Animation: the very nature of an icon means it doesn't need to be animated at all, just like the Square. However, you might want to draw left-facing and right-facing images for your icon. You decide what's best, but don't feel pressured to overly animate your image because that is not what this contest is all about!
Finally, any images which infringe on Intellectual Properties of big companies with lawyers cannot be accepted.
Part Two of Ye Olde Adventure II Contest: "Rankings"
Remember when Gorf called you a Space Cadet? Or getting blasted by Xylons and then earning the infamous "Garbage Scow Captain" ranking in Atari's Star Raiders? Adventure II will assign a game ranking at the end of each game, and here is your chance to use your vocabulary and wit to think up some good ones!
Rankings are assigned when the chalice is returned to the first castle and are based on the game variation's difficulty and length, the number of times a player is eaten or revives, if a secret is found, the number of dragons killed, and the time taken to complete the game. A player who completes the hardest game will get a different ranking than the player who completes the easiest game, for example.
Rules:
Rankings must be 20 characters or less
Keep it clean and free of slurs
Classic-gaming era "in jokes" and puns are fine!
The number of winners will depend on quantity and quality of entries! Winners will receive instructions how to 'activate' their rankings in the final game!
How to Enter
Please submit your entries to editor@atariage.com. You only need to enter one part of the contest--you do not need to submit entries for both parts (although you certainly may if you'd like). You may also submit questions to this same address. To discuss the contest with Ron Lloyd (the driving force behind Adventure II) and other AtariAge members, please drop by our AtariAge Contests Forum. The contest ends at 11:59pm (CST), Wednesday, August 31st, 2005 and all entries must be received by then!
You can keep abreast of Adventure II's development by visiting Ron Lloyd's Adventure II Development Page.