Atari Lynx Catalogs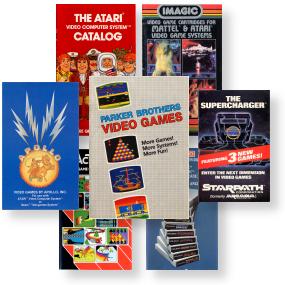 Back in the heyday of the Atari 2600, most reasonably-sized game companies produced catalogs to promote their games. It seems this is a lost art, as companies rarely package in catalogs with console games these days. But back in the early 80s it was always a blast looking through the latest Atari catalog to see what new games you could convince (beg) your parents to buy for you. As the largest producer of games for their systems, Atari also produced the greatest number of catalogs. And, in our opinion, the greatest catalogs. Atari's catalogs were filled with wonderful art that made them a joy to leaf through. And their catalogs could take a while to browse since some of them were quite large. Activision also produced a good number of catalogs, from their early days as the first third-party publisher with only six titles, to their later times when they were also publishing Imagic titles. Most other third-party companies only produced a single catalog, such as Parker Brothers. It's interesting to note that several third-party catalogs depict games that were never released, whereas Atari and Activision were much better about not picturing vaporware.

We're someday hoping to build a complete library of catalogs. If you have any catalogs that we're missing and wouldn't mind scanning them in, please contact us as we'd love to hear from you!
Atari
Description
Image
Model Number: 94089-1302
Year: 1991
Titles: 56

This isn't as much of at a catalog as it is a magazine--the form factor of this "catalog" is 8.5" x 11" and it's 32 pages long! It features a wealth of information about the Lynx hardware and games, more so than any other catalog we've ever seen from Atari. The first two pages describe the hardware in detail and include a chart comparing the Lynx to the competition (TurboExpress, SNES, Game Gear, Genesis, TurboGrafx-16, Game Boy and NES). The rest of the catalog describes the games, 56 in all, that were either available at the time or would be "Coming Soon!" Unfortunately many titles in this catalog never did see the light of day. Those include: Cabal, 720, Vindicators, Geoduel, Raiden, Rolling Thunder, Telegames' Guardians: Storm Over Doria. That's right, this catalog even featured third-party games from Telegames and Williams!

Besides lengthy descriptions of each game, there are hints and strategy devoted to many of them. Some games, such as Chip's Challenge, have two pages all to themselves! Near the back of the catalog is a contest to win up to $2500 in Lynx hardware and games, with the winners to be selected by Electronic Gaming Monthly Magazine. The back cover lists the Lynx's price (the Lynx II is depicted) as $99.99 along with bullet points highlighting some of the Lynx's features.

Model Number: [none]
Year: 1993
Titles: 67

This catalog comes in an unusual form factor in that it folds out in a large, vertical fashion, with one side describing all the virtues fo the Lynx and the other listing all the games. This Lynx catalog features more titles than any other, for a total of 67. This includes several games that were never released, including Eye of the Beholder, Raiden (spelled Rai-Den), and Relief Picture, Road Riot 4WD, and Rolling Thunder. At the bottom of the back page is an order form where you could order Lynx hardware and software directly from Atari (the Deluxe System Package is listed at $129.99). You could also order by calling a 1-800 number.
Model Number: [none]
Year: 1994
Titles: 59

Here's a catalog that Atari apparently mailed to Lynx owners (or prospective Lynx owners?), judging by the size of the back page of the catalog that features Atari's return address and plenty of blank space for an address and postage. It looks like Atari was trying to reduce some of their Lynx inventory, as most of the games listed have their prices slashed by half or even more. An order form is included so you could purchase Lynx games and accessories directly from Atari, and if you needed your Lynx fix even sooner, you could use a 1-800 number to order instead. At this point it appears that Atari knew which games weren't going to make it to market (or perhaps Atari had stopped development altogether), as every game pictured in this catalog was released. Unusual, for a Lynx catalog.
Telegames
Description
Image
Model Number: [none]
Year: 1993
Titles: 8

This catalog features eight titles from Telegames, a company that released titles for several Atari systems. This is the only third-party catalog for the Lynx that we've come into possession so far, which isn't surprising considering no other companies (besides Atari) released enough games for the Lynx to warrant one. Given this catalog's small size, we assume it was included with Lynx Telegames titles at some point. There is one game featured in this catalog that was never released: Guardians: Storm Over Doria. The descriptions for each game are in three languages, English, French and German. The last page of the catalog features an amplified stereo speaker system that could be used the Lynx.